Wondering what a layoff means for your retirement
… or if you should accept a buyout?
These guides can help you decide your next move if your company is downsizing.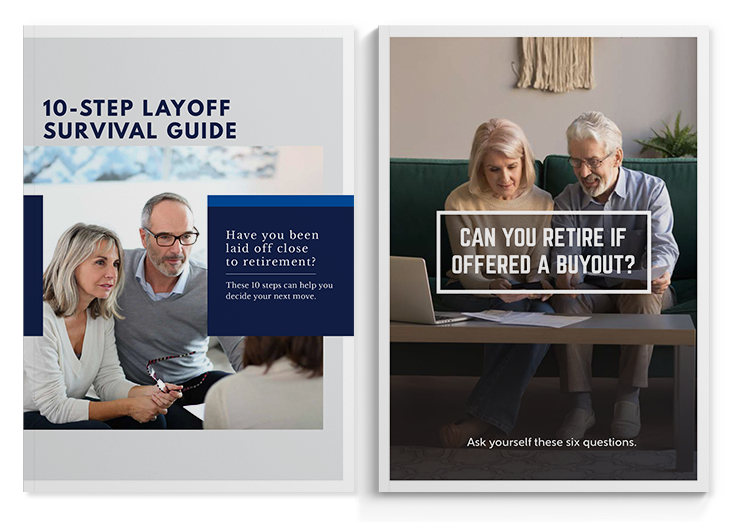 the "10-Step Layoff Survival Guide"
OR "Can You Retire If Offered a Buyout?"
No obligation beyond completing a short request form and brief survey.
By submitting your personal information, you consent to be contacted by a financial professional regarding your financial strategy for retirement.
Either Guide Helps You Prepare for Key Considerations Pertaining to:
If you are facing a layoff or buyout,
or are just confused on what you need to help ensure your retirement stays on track, you'll want to download your guide TODAY.
This guide is provided for informational purposes only; it is not designed as advice for an individual's personal situation. Our firm does not provide and no statement contained in the guide shall constitute tax or legal advice. All individuals are encouraged to seek the guidance of a qualified tax professional regarding their personal situation.
Investment Advisory Services offered through Integrated Advisors Network LLC (IAN), a Registered Investment Advisor. Certain Representatives of Capital City Financial Partners are also registered with and offer securities through, APW Capital, Inc., Member FINRA/SIPC, 100 Enterprise Drive, Suite 504, Rockaway, NJ 07866, (800) 637-3211. Capital City Financial Partners is neither affiliated with or under common control of either APW Capital or Integrated Advisors Network. Investing involves risk including the potential loss of principal. No investment strategy can guarantee a profit or protect against loss in periods of declining values. Opinions expressed are subject to change without notice and are not intended as investment advice or to predict future performance. Past performance does not guarantee future results. Consult your financial professional before making any investment decision. This information is designed to provide general information on the subjects covered. It is not, however, intended to provide specific legal or tax advice and cannot be used to avoid tax penalties or to promote, market, or recommend any tax plan or arrangement. Please note that Capital City Financial Partners and its affiliates do not give legal or tax advice. You are encouraged to consult your tax advisor or attorney. Annuity guarantees rely on the financial strength and claims-paying ability of the issuing insurer. Any comments regarding safe and secure investments, and guaranteed income streams refer only to fixed insurance products. They do not refer, in any way to securities or investment advisory products. Fixed Insurance and Annuity product guarantees are subject to the claims paying ability of the issuing company and are not offered by Integrated Advisors Network.
6/20-1201038C